Amazing Wild Flowers of Western Australia 4 Day Tour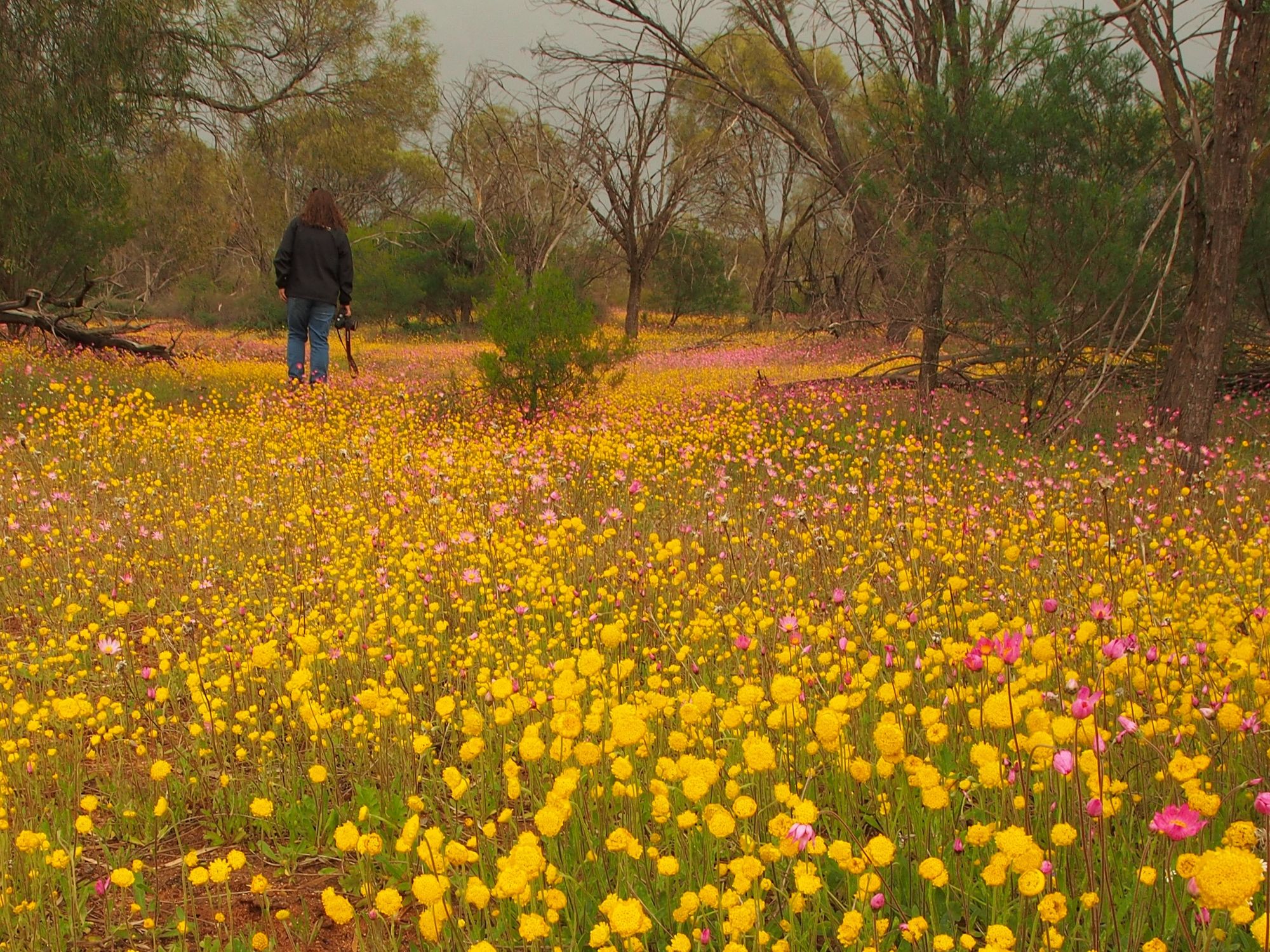 Day 1
The tour will begin at Guildford train station at 8am (you are welcome to park/ meet us in Gidgegannup if you wish - exact location will be given to you once you have booked, or contact us directly for the cost of a pick up from your accommodation)
From here we will head North towards Moora stopping at a nature reserve along the way before arriving in time for morning tea. We will then go to a reserve in the area before continuing our journey North, stopping at an area renowned for its everlastings and other spring flowers and orchids. We will arrive at our accommodation, a homely cottage on a farm, in time for dinner.
Lunch and dinner included
Day 2
We will depart our accommodation after breakfast and spend the day exploring some lesser known local nature reserves that have not disappointed us in the past. We have found many different species of orchids and wild flowers as well as everlastings. We will return to our accommodation in time for sunset.
After dinner we will head outside to do some astro photography (weather permitting).
Breakfast, lunch, and dinner included.
Day 3
Today we will head north stopping at a couple of nature reserves that are well known for their spring flowers. We will then continue to Coalseam Conservation Park in time for lunch. In the afternoon we will walk through a couple of areas well known for their carpets of everlastings.
Time permitting we will visit an old homestead which has rustic farm equipment and a ruined building.
(If we have not done astro photography on the previous day we will do it tonight - weather permitting)
Breakfast, lunch, and dinner included.
Day 4
Today we will say goodbye to our farm home and head back towards Perth.
We will stop at several reserves, including a couple of granite out crops which are known to be home to several varieties of wild flowers.
We will arrive back by approximately 6pm.
Breakfast and lunch included.
Please note:
The itinerary is subject to change depending on access and local advice on flowers in bloom.
We hope to see wreath flowers on both trips but this is more likely in September and a larger variety of orchids is normally in bloom in August.
What's included:
Transportation from Guildford or Gidgegannup.
Accommodation in a homely cottage on a farm (shared bathroom and toilet).
All meals.
Bottled water.
Photographic input and tuition from professional photographer Anna-Mair Francis
Entry fees
All levels of photographer are welcome.
This tour operates under COVID-19 regulations.
What's not included:
Snacks
Alcohol (you may bring some if you wish)
Pick up can be arranged (contact us directly after booking for cost)
If you wish to hire a tripod you can do so for $10
Travel insurance
Travel expenses to and from Perth
Pre and post tour accommodation
All other private expenses (e.g. camera batteries, memory cards, any other purchases)
Tour Information
Vehicle & Equipment:
Our vehicles for the tour are chosen for comfort and ability to go over all terrains.
Single Travellers:
On Capture the Light Photographic Tours single travellers will be allocated a room to themselves but will have a shared bathroom and toilet. If you prefer to share we will try to cater for this otherwise a single supplement will apply.
Accommodation:
Accommodation on this tour is a a homely cottage on a farm. It sleeps up to 6 people (3 bedrooms) with shared facilities.
Meals:
All meals are included throughout the tour - including morning tea. There will be fresh fruit and water available throughout the day. Please contact us directly if you have a special dietary requirement so that we can cater accordingly.
Weather:
This tour runs during the wild flower season. It is generally between 16 - 18 degrees during the day but can get quite cool at night with temperatures going as low a 3 degrees.
Clothing:
You will need closed in shoes with a good grip. Layers are a good idea as the temperature changes during the day. Waterproofs and an umbrella are also recommended as it does rain at this time of the year.
As we will be spending a lot of time at low levels it is a good idea to bring a kneeling pad (we do have some you can borrow if you wish)
Availability
There are currently no dates scheduled for this tour. Please get in touch if you'd like to know when this tour will run in the future.