Outback Pub Safari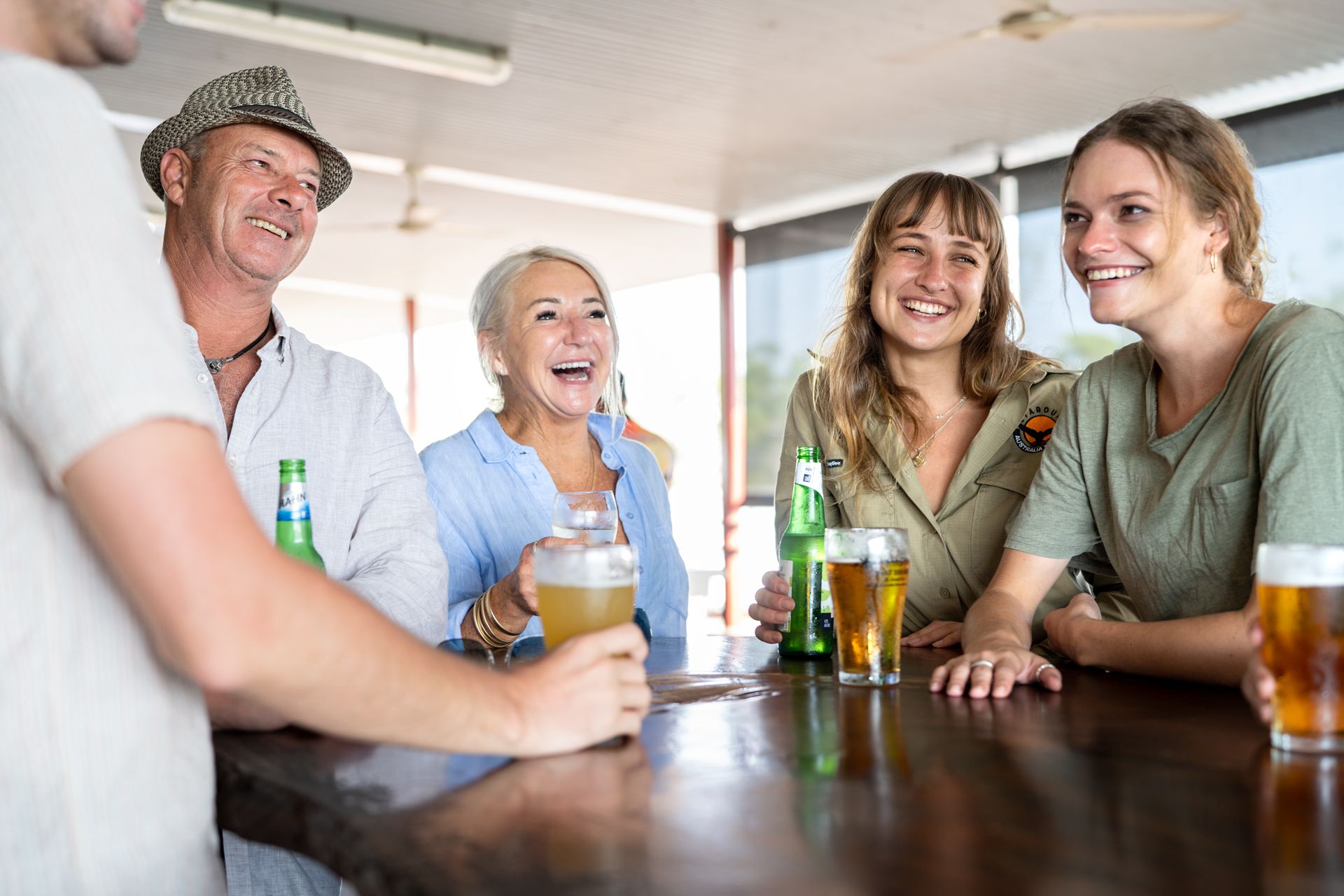 Partner
Cyaround
Location
Berry Springs, Fogg Dam, Girraween, NT
Duration
7 hours
Min/max attendees
1/1
Recommended for
everyone
Next availability
Request your own date
Pricing
AU$900.0 (Group of 1-4)
/
AU$1125.0 (Group of 5)
/
AU$1350.0 (Group of 6)
/
AU$1575.0 (Group of 7)
On our full day, Outback Pub Safari, travel in our 7 passengers (max.) all access, 6 wheel Toyota 4WD. Our knowledgeable local guide will provide a full comprehensive commentary to complement the wild, pristine natural beauty of Australia's Northern Territory. Join us on this tour to Immerse yourself in the iconic true blue Aussie culture.
This service provides pick up and drop off from your respective hotels/accommodation within the Darwin Region. Before embarking on a full day of visiting some of the Territories most iconic outback hotels. Our first stop, Berry Springs Tavern to start the day with a refreshing bevvy. Then onto Darwin River Tavern for a mouth-watering meal using locally sourced and sustainable produce! Check out the pubs resident animals before heading off to spot wildlife at Fogg Dam Conservation Reserve, an amazing place to spot a variety of the Top Ends Iconic wildlife species.
We will stop along the way, learning about the landscape, flora and fauna, cathedral and magnetic termite mounds and of course getting a taste of the real Aussie spirit.
The afternoon we see us visit the world famous Humpty Doo Hotel and finish the day off at the iconic Noonamah Tavern.
Make sure to bring your cameras along as you won't want to miss the opportunity to photograph some of these spectacular spots.
The ever changing environment means that regardless of the time of year you are visiting there is always something on offer.
Don't worry about lunch, we have you covered. As a delicious lunch is included in the cost of the tour. We cater to all dietary requirements. All we ask of you is that you bring a reusable water bottle, suitable footwear, and of course a sense of adventure!
Inclusions:
Pub Lunch at Darwin River Tavern (We cater to all food allergies/dietary requirements)
Off road experience (only available seasonally, weather permitting)
Spacious air conditioned vehicle with comfortable, suspension seating
Experienced local driver and guide
Guided comprehensive commentary
Hotel pick up and drop off
Duration: 10:30am – 5:30pm (7 hrs)
Cost:
$225 per person
Why CYAROUND Australia tours?
We provide intimate, small group, family-friendly tours
Tours conducted in our unique Toyota Arkana which is an all-access 4WD vehicle
Friendly, experienced Guide with extensive knowledge of Australian history, flora, fauna and culture
Itinerary:
10:30 AM pick-up at designated location
Locations Visited:
Berry Springs Tavern
Darwin River Tavern
Fogg Dam Conservation Reserve
Cathedral and Magnetic termite mounds
World Famous Humpty Doo Hotel
The Noonamah Tavern
5:30 PM drop off at the designated location (within 20Km's of Darwin CBD)
Activities:
Visiting Iconic outback hotels
Off road experience (Only available seasonally, weather permitting)
Photography
Wildlife spotting
Additional Information:
** Re-usable water bottle and suitable footwear required. **
Availability
This tour is available on demand. Please specify your preferred date and time on the booking form.