VIVID SYDNEY NIGHT photography course / Focus 10 / 3hrs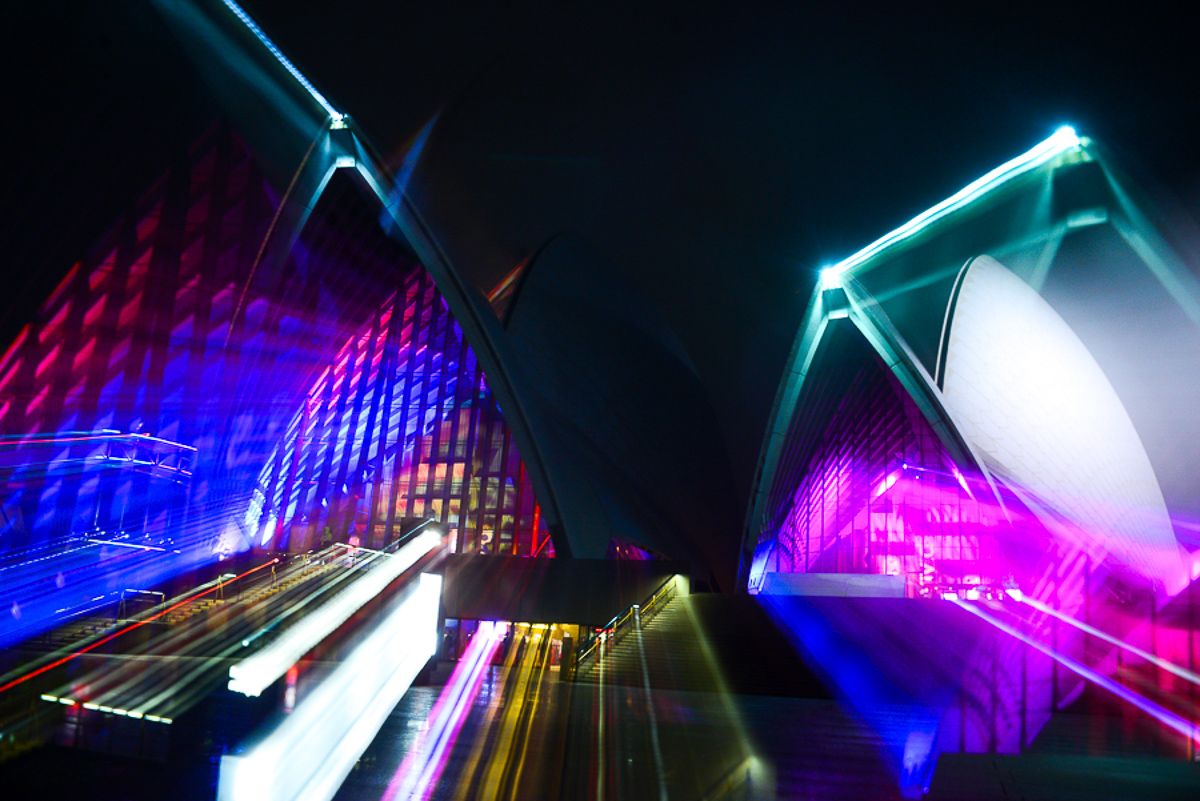 Partner
Focus 10
Location
Sydney Harbour, The Rocks, Sydney, NSW
Duration
3 hours
Min/max attendees
1/6
Recommended for
everyone
Next availability
Ask us
Pricing
AU$150.0 (Standard)
• Iconic night photography of Sydney • How to set up your camera • Simple, effective techniques of night photography • Portraits, cityscapes, reflections, light streams, zooming & more • The best gear, lenses and accessories • Detailed notes • Cost: $150
LOCATION:
Sydney
LOCATION & TIME:
18 Argyle St the Rocks ( Near red telephone box opposite the Clocktower)
5.30pm to 8.30pm
COURSE DURATION:
3 hours
COURSE FREQUENCY:
Courses between 26 May and 18 June 2023 include 'VIVID SYDNEY'
DESCRIPTION:
Introduces beginners and intermediate photographers into the fabulous world of dusk to dawn night photography in Sydney. We focus on practical 'hands on' shooting with a strong emphasis on camera settings, handling and technique. There is fast, intuitive instruction on lighting and photo composition along with quickly setting up each individuals camera to cover ISO settings, white balance, picture style options. Smartphones are welcome. These point n' shoot cameras deliver great results.
We focus on learning the hows and whys shooting of buildings, cities, landscapes and portraits and the essentials of night photography.
Our teaching style is one of clarity and simplicity, how to be flexible and adaptable so that if you find yourself with only a smartphone and no tripod, you can still achieve a stunning photograph. We also love quality compacts set on a low ISO setting and firmly embedded in a beanbag using the self timer will take a brilliantly sharp image. Its understanding what can be achieved with your available gear and expanding your creative vision and technical skills.
COURSE OUTCOMES:
Fast track your photographic technical and artistic skills
We quickly show you how to set up your DSLR camera, digital compact, mirrorless camera or smartphone for night & low light photography
An understanding of what these settings are and when and where to use them.
Get great shots of iconic Sydney locations such as the Opera House, Sydney Harbour bridge, city skyline and the atmospheric Rocks district
How to shoot light trails of cars, ferries etc.
How to starburst night lights
How to shoot neon lights
Zooming techniques
Understanding of white balance, ISO, file sizes, picture style
Lens perspective
How to shoot buildings, skylines, objects and people at dusk and at night
How to shoot with flash and available light
A fun, interactive, dynamic, creative, learning experience
WHAT THE COURSE COVERS:
Your DSLR, compact, mirrorless & smartphone camera functions
We cater for Smartphones - they are even better with a tripod or selfie stick support. Shooting in RAW or with Apps are covered
Modes and what's best for the situation (Aperture, shutter, program, manual)
Memory, file sizes, formats,
Exposure compensation button (+/-)
Mirror lock up, self timer and remote release
Depth of field
ISO setting
White balance
Focusing mode and focus points
Composition, light, viewpoint, angles, lens perspective
Long exposure, movement
Balancing artificial and ambient light
Use of 'built in' or external Speedlite flash
Reflections and abstract effects such as zooming
Shooting buildings, iconic city structures, street scenes, modes of transport and landscapes
Night portraits using natural and artificial light and camera flash
INSTRUCTOR:
Andrew Thomasson
REQUIREMENTS:
No prior photography knowledge
We recommend you have a digital DSLR and / or a quality compact or mirrorless with manual functions (aperture and shutter speed priority modes)
Smartphones are great with a tripod or selfie stick support
For Digital DSLR users, at least one quality multi range lens such as a Nikkor 18-200mm VR lens, a Canon 17-85mm, or the twin kit lenses sold as a package with many Canon, Pentax, Nikon and Olympus DLSR cameras and ideally a prime lens such as a Nikon/Canon 50mm f1.8. We highly recommend the 50mm f1.8 lens (or a 35mm f1.8) for night photography.
Memory Card(s) - we recommend at least a 8GB card for this course. We sell 32GB memory cards for $25
A tripod is pretty much essential on this Sydney night photography course
Charged camera battery and a torch. Head torches are really useful leaving your hands free.
We have a few tripods for students to use at no charge in case you do not own one.
Dress comfortably with good walking shoes.
TIME: 5.30pm to 8.30pm
MEETING POINT: 18 Argyle St., The Rocks (outside Munich Brauhaus), opposite the Clock Tower
INCLUSIONS:
Instruction from professional photographer Andrew Thomasson
Detailed notes
NOTE:
Times are approximate only & may vary according to various factors
You are responsible for your own camera gear and looking after it. Focus 10 Pty Ltd is not liable for any damage or loss of your personal camera equipment.
32GB SD cards ( Lexar) are available for sale for $25
TERMS & CONDITIONS
Payments:
Paying for your course in full upon booking will confirm your attendance. Places are limited on all courses.
Refunds:
We reserve the right to cancel and reschedule any course, due to inadequate enrolment, bad weather, instructor illness, an 'act of God' or a force majeure such as a pandemic. As an example, a photography course has to be cancelled or deferred to another date and time due to Covid 19 border closures and lockdowns which is beyond the control of Focus 10 Pty Ltd and other related parties. We also reserve the right to cancel any course if there is insufficient demand, especially if it means that our costs would be higher than our income. Please therefore do not leave it until the last few weeks if you are interested in a particular date, as you may find that it has been cancelled. As our costs for each training event remain the same no matter how many delegates attend, like any pre-booked tickets for the theatre, concert, flights etc, we are unable to give a full refund in the event of non-attendance, regardless of the circumstances. If withdrawal occurs within the 14 days before the course starts we will try to put you on an alternative date if places are available. Please note that we cannot be liable for any other costs incurred by yourself, so please check with us before booking any non-refundable accommodation or transport.
Workshop Photography:
We reserve the right to take photographic, (both still and video) records of any of our workshops/courses which may be used for promotional purposes, submissions, advertising and records. We grant permission for participants to use any images captured by them during this workshop for self-promotion only. Participants may not make any financial gain from any images captured during this workshop/course.
Availability
There are currently no dates scheduled for this workshop. Please get in touch if you'd like to know when this workshop will run in the future.