Mural Tour of Adelaide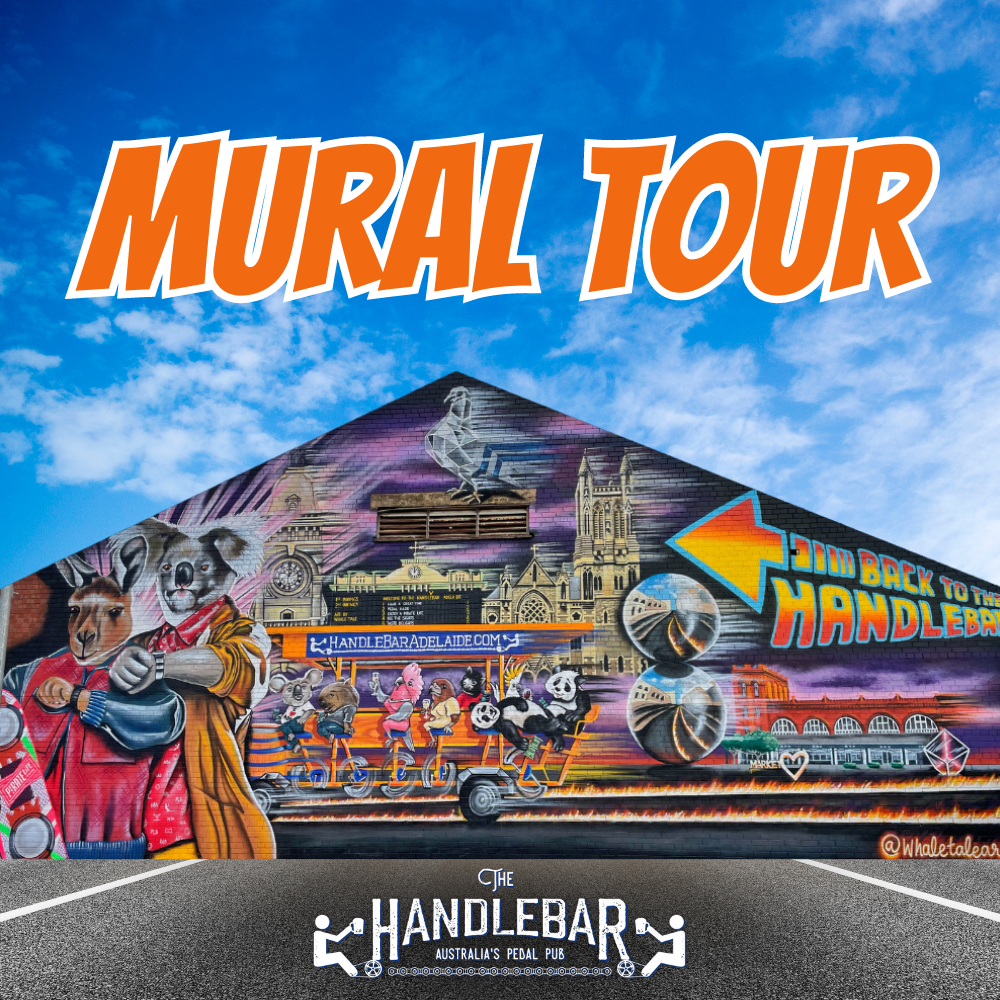 Partner
The HandleBar Adelaide
Location
Adelaide, SA
Duration
2 hours
Min/max attendees
1/16
Recommended for
beginner
Next availability (Adelaide time)
Sun, 10 Dec 12:30
Pricing
AU$35.0 (Adult)
Tour Highlights:
Curated Route:
Our carefully curated route takes you through the city's hidden gems, ensuring you don't miss out on any must-see murals. Witness the transformation of ordinary walls into stunning works of art by talented local and international artists.
Interactive Experience:
The HandleBar Mural Tour isn't just a visual delight; it's an interactive adventure. Scan a QR Code to discover each mural's history, artist, and significance. Feel the energy of the city as you pedal along with your fellow tourists, engaging in lively discussions about the art you encounter.
Photography Opportunities:
Bring your camera or smartphone to capture Instagram-worthy shots of these vibrant murals.
Local Insights:
Discover the stories behind each mural's creation, the inspirations that fuelled the artists, and the impact street art has on the community. Gain a newfound appreciation for the power of public art.
Refreshments:
During the Tour we'll make a stop at one of Adelaide's most iconic pub's, The Gilbert Street Hotel, established 1848. This will give you the opportunity to rest and refuel before heading onto the next mural!
Tour Details:
Duration: Approximately 2 hours
Starting Point: The HandleBar Adelaide HQ (140 Gray Street)
Price: $35 per person
Please note - We require at least 6 people for a tour to be confirmed.
Don't see an option? Groups inside 48 hrs with 6 or more text us, we may be able to squeeze you in! 0421 858 153
ALL RIDERS MUST BE 18+
Availability
Sun, 10 Dec 12:30
Sun, 17 Dec 12:30
Sun, 24 Dec 12:30
Sun, 31 Dec 12:30
Sun, 07 Jan 12:30
Sun, 21 Jan 12:30
Sun, 28 Jan 12:30
Sun, 04 Feb 12:30