Mungo National Park Photography Workshop
Mungo National Park, a UNESCO world heritage site, is a must-visit destination for photography enthusiasts seeking to capture breathtaking landscapes.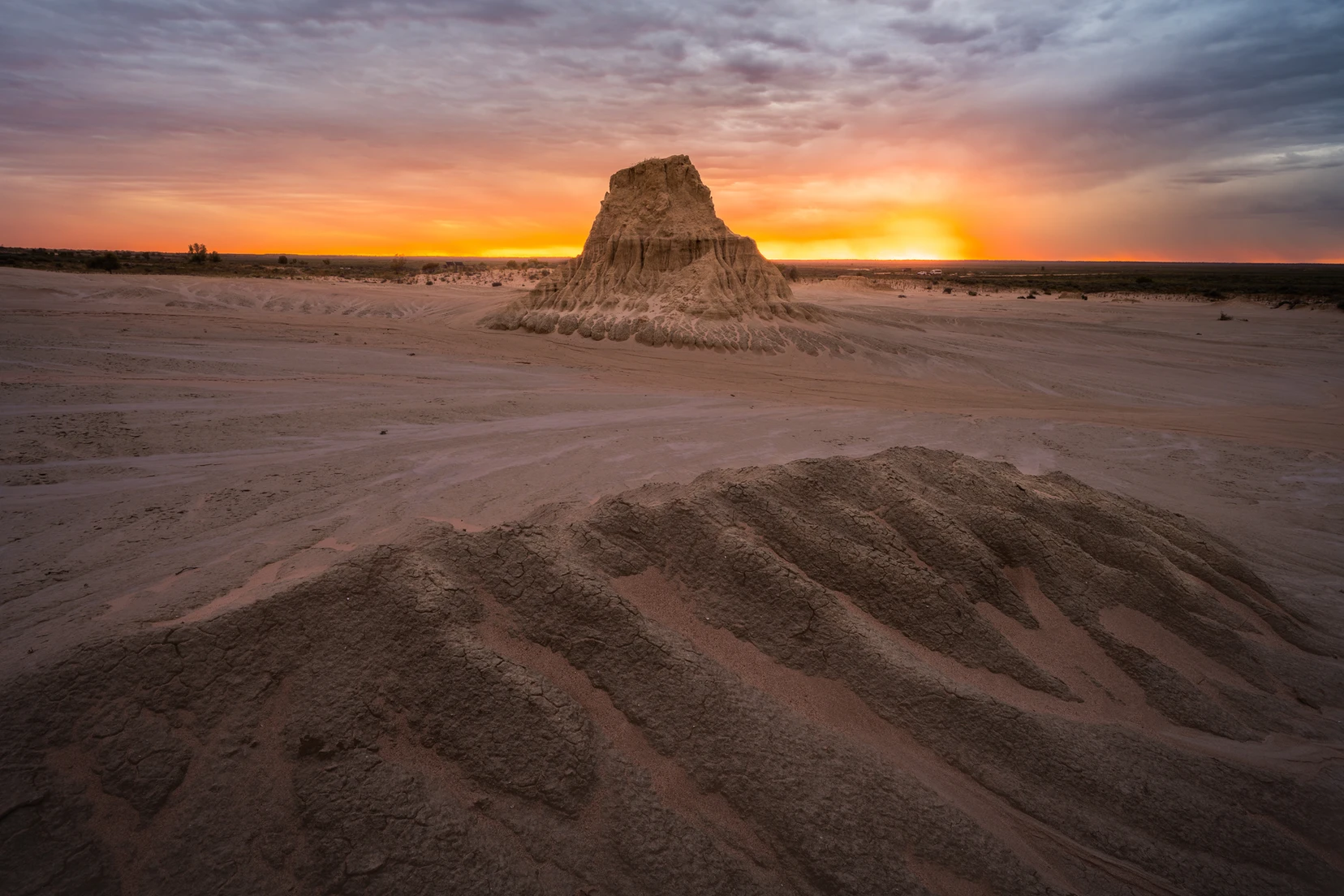 Partner
Adam Edwards Photography
Location
Mungo National Park, Mildura, NSW
Duration
4 nights
Min/max attendees
1/6
Recommended for
beginner
Next availability (Sydney time)
Thu, 11 Apr 09:00
Pricing
AU$4950.0 (Standard)
/
AU$1000.0 (Deposit)
Adam Edwards' photography workshops offer a unique opportunity for participants to explore the stunning Walls of China region of the park, which is only accessible with an authorized guide. With Adam's accreditation and extensive experience leading photography tours in the area, participants can expect a top-quality experience catering to all photography expertise levels.
Adam's workshops provide a personalized approach that helps participants improve their photography skills and create stunning images that showcase the region's unique natural beauty. Whether you are a seasoned professional looking to expand your portfolio or a beginner seeking to improve your photography skills, this workshop promises an unforgettable experience.
OVERVIEW
Adam's five-day workshop in Mungo National Park is the ultimate photography itinerary, designed to showcase the best this stunning Australian destination offers. The itinerary includes multiple visits to the iconic Walls of China region of the park, breathtaking natural landscapes, and opportunities to learn about the area's rich cultural heritage.
Throughout the five days, participants can capture unique landscapes and wildlife, all under Adam's expert guidance. His extensive experience and area knowledge will provide invaluable insight into the best locations for capturing stunning images and tips and tricks to improve photography skills.
This workshop is suitable for photographers of all levels, from beginners to professionals interested in improving their photography skills and exploring the stunning natural beauty and rich history of Mungo National Park. Participants can expect a personalized experience tailored to their interests and needs and the opportunity to connect with like-minded individuals and build lasting friendships. This flagship itinerary promises to be an unforgettable photography adventure, showcasing the best of this unique and beautiful region.
​
WORKSHOP HIGHLIGHTS
Starting and finishing in Mildura, NSW
4 Nights of Quality accommodation in your own room
All meals included
Professional photography tuition
Transport in a fully equipped, modern 4WD
Pre-tour, one-on-one meeting to discuss your needs
​## Itinerary
Day 1
We meet in Mildura during the afternoon to familiarise ourselves with each other before heading out for an evening, including photographing the sunset and having a meal at a local restaurant.
Day 2
We meet early to head out and photograph the sunrise at one of the many fantastic Mildura locations before heading out for Breakfast at a local cafe.
Once we have had our breakfast, we head back to the Motel to freshen up and check out before heading off to Mungo National Park - the park is about 90 minute drive, mostly on an unsurfaced road.
When we arrive at the park, we head directly to the visitor's centre to check out all of the available information thats available and understand the park and its history. While at the visitors centre, we will stop for some light snacks and refreshments.
Once we are checked into our rooms and have had some time to relax, we head off for our first sunset at the iconic Walls of China; we will spend some time exploring the area and uncovering some compositions to photograph over our following visits.
Finally, for the day, we return to have a lovely dinner and retire for the night.
Day 3
Our first experience for day three is an early start for a sunrise at the Mungo dunes before returning to the accommodation for a continental breakfast.
Throughout day three, we take in some more local scenes and spend some time learning editing techniques, and there's ample time to work together on any specific areas of your photography you feel you need some help with.
We take another trip to the Walls of China for sunset before again having a meal at the accommodation.
Day 4
We head out early for a sunset somewhere in the park before returning to the accommodation for a continental breakfast, checking out, and heading back to Mildura.
Once we are back in Mildura, we check into our accommodation and have some free time before heading out for a local Sunset and Meal at a local restaurant.
Day 5
On our final morning, we have an optional Sunrise at the Mildura riverfront before a local cafe breakfast; there is time here to cover any unanswered questions before departing.
This is a high-level itinerary; there is always flexibility in workshop itineraries to allow us to make the best use of our time and get to the right places at the right time in the right light.
Availability
Thu, 11 Apr 09:00
Thu, 09 May 09:00
Thu, 01 Aug 09:00